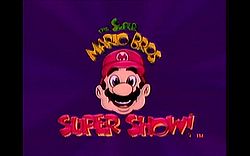 The Super Mario Bros. Super Show!
is the first cartoon series of the video game series,
Super Mario Bros.
It also featured live-action segment of the Mario Brothers and trailers of
The Legend of Zelda
cartoon series.
[1]
Michael Jackson's music was used in the cartoon episodes, King Mario of Cramalot (Bad), Count Koopula (Thriller), and The Unzappables (Beat It). He was also mentioned in the live-action segment Will the Real Elvis Please Shut Up!.[2]
References
Ad blocker interference detected!
Wikia is a free-to-use site that makes money from advertising. We have a modified experience for viewers using ad blockers

Wikia is not accessible if you've made further modifications. Remove the custom ad blocker rule(s) and the page will load as expected.