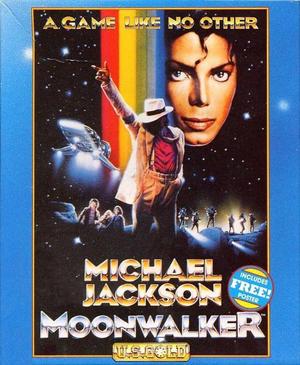 Moonwalker: The Computer Game
is the very first
Michael Jackson
video game that was released on August 24, 1989 in the U.S. It was developed by Emerald Software Ltd. and Keypunch Software and was published by U.S. Gold Ltd., Kixx, and Erbe Software, S.A. It's on the Amiga, Amstrad CPC, Atari ST, Commodore 64, MS-DOS, MSX, ZX Spectrum, and PC. This game is based off of one of Michael Jackson's movies,
Moonwalker
.
[1]
[2]
[3]
Gameplay
The games featured four different levels. The first was a top-down maze-style level based on the 'Speed Demon' short, involving wandering the studio to collect various items and costume pieces, with the final piece being the motorcycle, all whilst trying to avoid the crazed fans. Stealth elements were used, with an onscreen map. The next level had similar gameplay, riding the motorcycle collecting tokens, upon which turning into a car in order to jump a barrier to the next part. The third level was a sort of side-scrolling level based on the "Smooth Criminal" clip, collecting ammunition and shooting at gangsters in openings above you. The final level involved morphing into a robot and shooting at soldiers in openings, with the player controlling a crosshair. The songs that were used in each song was Bad for level one, Speed Demon for level 2, Smooth Criminal for level 3, and The Way You Make Me Feel for level 4.
References
Ad blocker interference detected!
Wikia is a free-to-use site that makes money from advertising. We have a modified experience for viewers using ad blockers

Wikia is not accessible if you've made further modifications. Remove the custom ad blocker rule(s) and the page will load as expected.