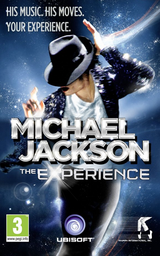 Michael Jackson: The Experience
is a video game where you get to sing and dance like
Michael Jackson
. This game was released on November 23, 2010 for the Wii, Nintendo DS, and PlayStation Portable. This game was also released on April 12, 2011 in North America and on April 15, 2011 in Europe on Xbox 360's Kinect and Playstation 3's PlayStation Move. This game also got reviewed by one of Ubisoft's people, Felicia Williams, by Guy Cocker, from Gamescom 2010.
List of songs
External Links
Official North American Trailer
Ad blocker interference detected!
Wikia is a free-to-use site that makes money from advertising. We have a modified experience for viewers using ad blockers

Wikia is not accessible if you've made further modifications. Remove the custom ad blocker rule(s) and the page will load as expected.