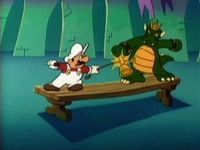 King Mario of Cramalot
is the second episode of
The Super Mario Bros. Super Show!
. It was aired on September 5, 1989 and was written by Perry Martin.
[1]
The cover song of this episode is one of Michael Jackson's most famous songs, Bad. Mario says "I'm Bad" before fighting King Koopa and the cover starts playing once they fight.[2]
Trivia
Some versions of this episode removed the cover possibly due to copyright issues, however, Mario still says "I'm Bad" before him and King Koopa fight.[3]
External Links
References
Ad blocker interference detected!
Wikia is a free-to-use site that makes money from advertising. We have a modified experience for viewers using ad blockers

Wikia is not accessible if you've made further modifications. Remove the custom ad blocker rule(s) and the page will load as expected.