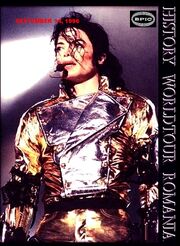 HIStory: Live in Bucharest is a concert by Michael Jackson. It is the third concert of the HIStory World Tour. It was professionally filmed by Nocturne Productions, Inc., which filmed all of Jackson's tours and other affairs.
Overview
This is the first full televised concert of the tour. The Great Gates of Kiev introduction was filmed off-screen onto the JumboTron, not a direct feed like the other concerts. The footage and audio for the "Remember The Time" Interlude was different from that shown at other concerts. The crowd noises and some crowd footage is from the Dangerous Tour in Bucharest DVD, but the true origin of these sounds is unknown, as the Bucharest DVD contained footage from Wembley, Madrid and several other concerts. During Billie Jean the playback started late as Jackson covered his mouth to lipsync, and during the final number HIStory, for a brief moment, he sang over playback. This concert was televised by TELE 7 ABC.
Set list
"Great Gates Of Kiev" Video Intro
HIStory Medley
"The Wind" Video Interlude
"Remember The Time Montage" Video Interlude
"Black Panther" Video Interlude
"We Are The World" Video Interlude
Gallery
Ad blocker interference detected!
Wikia is a free-to-use site that makes money from advertising. We have a modified experience for viewers using ad blockers

Wikia is not accessible if you've made further modifications. Remove the custom ad blocker rule(s) and the page will load as expected.